DEDERICHS REINECKE & PARTNER
Agentur für Öffentlichkeitsarbeit
Schulterblatt 58
20357 Hamburg / Germany
Telefon: +49 40 20 91 98 220
E-Mail: info@dr-p.de
If you can't make it home, we recommend one of the hotels on the list. Our favourites are the Fritzhotel and the Hotel im Wasserturm. By the way, both are only a few minutes walk away from us.
From the airport you need approx. 20 minutes by taxi to us. If we take a taxi in Hamburg, we'll do it with 211 211. That's fast and easy.
If you need help with your travel planning, just call us. You can reach us at +49 40 20 91 98 220
How to find us in the Pianoforte factory: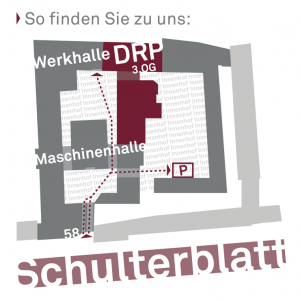 Press contact/ New Business/ Just get to know each other
Should you have any questions about Dederichs Reinecke & Partner or require further information, Thomas Reinecke looks forward to hearing from you.
And this is how you can reach him:Thomas Reinecke
Phone: +49 40 20 91 98 220
E-mail:
thomas.reinecke@dr-p.de